Overview of Best Test Tube Baby Treatment
IVF is a complex medical process that involves some stages in the preparation for fertilization and then the real fertilizing of an egg. Some couple has fertility issue then those wants to take treatment from the Best IVF Center in India. That is why they are willing to spend a heavy amount of money on the IVF process.
At Usha Nursing Home, we provide our patients with the best kind of treatment facilities. We are the Best Test Tube Baby Hospital in Anand, working continually to help many parents to achieve their dream of becoming a parent. So, if you are thinking about getting a baby through IVF, then your look for the best test tube baby center in India ends here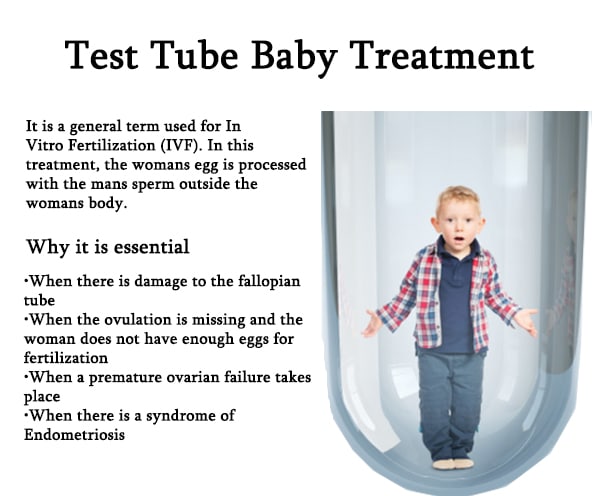 What Is Test Tube Baby Treatment?
In vitro fertilization (IVF) is a complex sequence of procedures utilizes to help with fertility or prevent genetic problems and assist with the beginning of a child.
During IVF, grown-up eggs are collected from ovaries and fertilized by sperm in Usha Nursing Home. Then the fertilized egg (embryo) or eggs (embryos) are transfer to a uterus. One full cycle of IVF takes about three weeks. Sometimes these steps are split into different parts and the process can take longer.
Is test tube baby healthy?
The first "Test-tube baby" baby was born in 1978, with the help of reproductive Procedure; more than three million babies have been born through Test Tube Bay Treatment. Most of these are healthy babies. But as a group, they are at higher risk of low birth weight, which associated with Size, high blood pressure, type 2 diabetes coming in life.
Test tube baby cost
Test tube baby cost range is from Rs 70,000 to Rs 1, 30,000 depending on the condition.
The cost of IVF is different in different clinics and depends upon multiple reasons. If you wish to get an IVF treatment, choose a Hospital or clinic at first. Talk to them and know the overall cost and all the things it includes and excludes. In Sometimes, medications are included in the treatment cost, whereas in further places, it doesn't.
Usha Nursing Home Center: Best Test Tube Baby Center
The highly qualified IVF specialists at Usha Nursing Home Center are the best Test Tube Baby Center in Anand and offer treatment to couples suffering from infertility. You can get the most advanced medical treatment from the team of best IVF specialists.
Book an appointment with our specialists and experience the paradise of parenthood.
Nowadays, USHA IVF test tube baby treatment has become a widespread practice that has appeared as a boon for several beneficiaries who suffer from the problem of infertility. IVF has boosted the fertilization process in human being having complication regarding pregnancy. Test Tube Baby Treatment is technique which has helped several individuals in the more effective possible way. In vitro fertilization is the process of fertilization where the egg is made to combine with sperm in vitro. The whole process includes maintenance, care, hi-tech supervision and stimulation of women's ovulating process, where removal of ovum and ova from her ovaries and incepting sperm in them for fertilization takes place in culture medium of the laboratory.
There is merely no difference between IVF and test tube baby. Test tube baby is a term which has prevailed long years ago was referred to denote in vitro fertilization. In IVF treatment, an embryo is formed through IVF treatment is transferred into the mother's womb and the pregnancy is continued with usual care likewise as the normal pregnancies. IVF treatment cases are rising rapidly due to the rising incidence of infertility or the inability of humans to conceive naturally. When you are looking for the best organization that can better suit your infertility requirements than Usha IVF test tube treatment is the most influential firm to take care of your concerns at heart and offer reliable solutions that solve all your priority requirements.