Locate the Best Fertility Clinic in India at Usha IVF
Fertility treatment requires the right clinic. Usha IVF is proud to be renowned as one of the best fertility clinics in India. It provides cutting-edge technology, top-notch medical knowledge, and caring treatment. In this article, we will highlight the key reasons why Usha IVF stands out as the top choice for couples and people seeking effective fertility solutions in India.
Comprehensive Range of Fertility Services: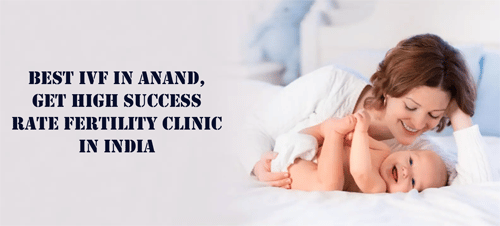 A comprehensive range of fertility services is offered by Usha IVF to address different infertility problems. Our skilled team of physicians and experts offers a customized method tailored to your specific needs, whether you're interested in basic fertility assessments or developing assisted reproductive technologies (ART).
In Vitro Fertilization (IVF)
Intrauterine insemination (IUI)
Test Tube Baby Treatment In Anand  
Low egg count treatment in Anand 
Low ovarian reserve treatment in Anand 
Obesity and infertility treatment in Anand 
Thyroid and infertility treatment in Females 
Treatment of Less Sperm Count Oligozoospermia in Anand 
Treatment of zero sperm count azoospermia 
Sperm count for IUI treatment 
TESA or PESA treatment in Anand 
Ultrasound in Scrotal Doppler 
Best treatment for PCOS or PCOD 
PGD or PGS treatment in Anand. 
Pre-implantation genetic diagnosis in Anand 
Female infertility symptoms related treatment in Anand 
Affordable IVF Treatment in Anand 
Ovum, Sperm, And Embryo Donation In Anand 
Best infertility treatment in Anand. 
IMSI treatment in Anand 
PICSI Treatment in Anand 
Fibroid and infertility treatment in Anand 
Laparoscopy treatment for fibroids 
Uterine polyp and uterine septum treatment 
Tubal blockage and IVF treatment  
3D Ultrasound For Pregnancy  
Twin pregnancy treatment in Anand 
Diagnostic and operative hysteroscopy procedure 
Tubal testing by HSG 
Unicornuate or bicornuate uterus and IVF. 
Innovative infrastructure:
Modern infrastructure and cutting-edge lab facilities are available at Usha IVF to provide the highest treatment standards. Modern operating rooms and embryology labs are among our state-of-the-art medical equipment. To provide the best possible environment for fertility therapy, we use stringent quality control procedures.
Highly Qualified and experienced team:
Medical staff knowledge and experience are essential to fertility treatments. Usha IVF has highly qualified gynecologists, embryologists, and support workers. Our goal is to provide you with individualized support and care throughout your fertility journey. Our doctors are well-known authorities in reproductive medicine and keep up with fertility therapy developments.
Patient-centered Methodology:
We know infertility treatments can be physically and emotionally taxing. Usha IVF places a high priority on our patient's mental health and offers a loving atmosphere. Every step of the way, our staff provides counseling services and assistance to ensure you feel at ease, informed, and licensed during your fertility treatment.
Usha IVF is pleased to report that their fertility treatments have a high success rate. Our dedication to quality, cutting-edge treatment methods, and individualized patient care have all contributed to our success. Through continual research and innovation, we increase our success rates.
Choosing the best fertility clinic in India is a crucial step on your road to parenting. Offering a variety of reproductive therapies, Usha IVF stands as a leading fertility center. It offers cutting-edge facilities, highly qualified staff, and a patient-centered approach. By providing the most cutting-edge and successful fertility keys, we are committed to assisting individuals and couples in realizing their desire to become parents. Get started on the first step towards parenting by getting in touch with Usha IVF right away.