Considerably IUI Treatment success rates lower than for IVF Treatment for Pregnancy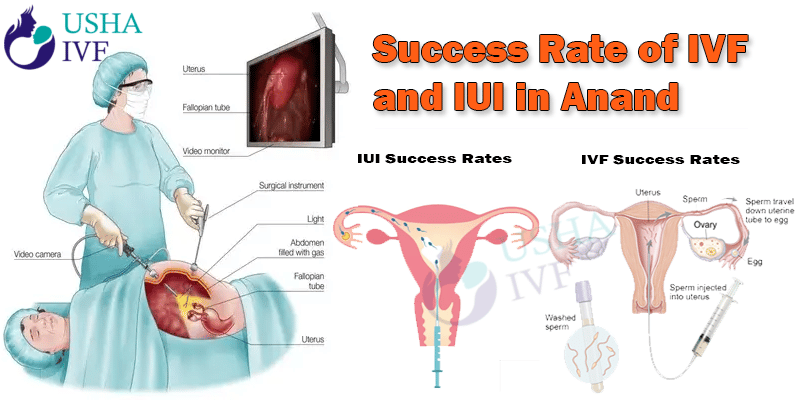 The Difference between IUI and IVF
Transcript
With more couples across Anand, Gujarat turning to the use of fertility treatments and helped reproductive technologies, one of the most common questions patients ask their fertility specialist is: what is the difference between IUI (Intrauterine Insemination) and IVF (In vitro fertilization)?
There are several factors to consider, and the answer isn't always clear. In vitro fertilization (IVF) and intrauterine insemination (IUI) can both help you have a baby.
Intrauterine Insemination (IUI)
The low cost of intrauterine insemination (IUI) underlies its popularity among couples. Couples may need multiple cycles of IUI before becoming pregnant, raising the overall cost closer to half compared to IVF. The average cost of IVF in Anand is affordable, but IVF has considerably higher success rates than IUI.
What is the IVF success rate?
Best Test Tube Baby Center In Anand With Highest Success Rate Of IVF In India
Usha IVF is widely known and recommended as the most trusted and the best test tube baby Hospital in Anand, India. The success rate of an IVF procedure in India  is determined by several factors, which are listed below:
The duration of infertility
The female partner's age
Infertility causes
The sperm, egg, and embryo's quality
Infertility form (primary or secondary)
Post-transfer luteal process
The growth of the endometrium
The success rate of IVF ranges from 30% to 35%. Globally, the average IVF success rate is around 40% in young women. As per some research, it is found that ladies who have given birth to a child via IVF treatment generally conducted an average of 2.7 cycles. The number of successful cycles is better than most hospitals in India.