IVF Consultation Appointment | Preparing For Your First IVF Consultation Appointment
An IVF consultation appointment is a medical appointment for people or couples who are considering in vitro fertilization (IVF) as a treatment for infertility. During the IVF Consultation Appointment, the medical team will review the patient's medical history, perform a biological examination, and discuss various factors of the IVF circle.
The appointment normally begins with a review of the patient's medical history, including any one-time infertility treatments, surgeries, or medical conditions that may impact fertility. Our Expert IVF Consultation team may also ask about the patient's lifestyle routines, such as smoking, drinking, or drug usage, as these can also impact fertility.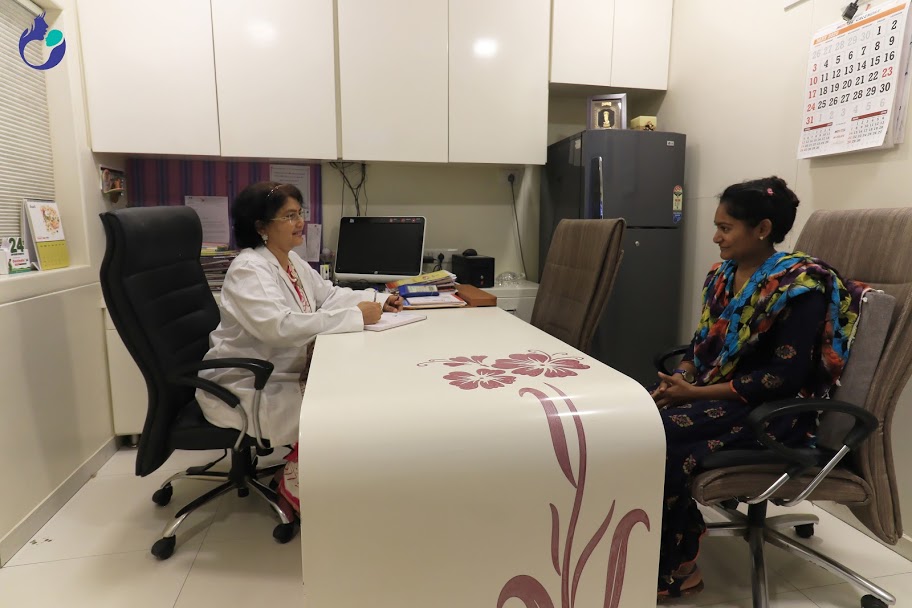 Leading IVF facility Usha IVF offers cutting-edge IVF treatments to infertility-stricken couples in Anand, Gujarat. Here at clinic we provide a wide variety of services, such as consultations, diagnoses, and treatments for a variety of infertility problems for male & female.
If you're searching for an IVF Consultation Appointment, you can simply arrange one online by calling us or by visiting our website. Usha IVF's skilled fertility specialists will examine your medical history with you during the consultation appointment, order any required tests and assessments, and develop a custom treatment plan based on your particular requirements and objectives.
Usha IVF has a team of experienced and qualified doctors, embryologists, and other support staff who are committed to providing the highest quality of care and support to its patients. We make use of the latest equipment to ensure accurate diagnosis, effective IVF treatment, and the best possible outcomes for our patients.
Whether you are looking for IVF treatment, IUI, or other fertility treatments, Usha IVF is dedicated to helping you achieve your dream of starting a family. Book an IVF consultation appointment today to take the first step toward building the family of your dreams.
What to Expect at First Ivf Consultation Appointment: Make an appointment now
Doctors for Best Ivf Doctor In Anand, find doctors near you. Book Doctor's Appointment Online, View Cost for IVF Consultation Appointment in Anand | Usha IVF.
1. Get your medical history and insurance information ready to provide.
Bring your insurance documents, any relevant test results or medical history records, and, if possible, your partner to your appointment with a fertility specialist.
2. Take a Deep Breath and Relax: You Have a Long Appointment Ahead of You.
Your initial fertility consultation should last around an hour, plus or minus 15 minutes. It's critical that your reproductive endocrinologist learns as much as possible about your current circumstances. You'll be quizzed on your sexual history as well as how long you've been trying to conceive.
3. Know the Rules: Fertility clinics follow strict guidelines.
You will be checked in at the front desk once you arrive for your appointment. A member of the patient services team may inquire about your referring OB/GYN and how you learned about the practice. If you have a co-pay for seeing a fertility specialist, this is when it will be collected. The reproductive clinic may take your picture or scan your finger or palmprint to keep on file for security purposes.
4. Vitals will be collected (Just Like a Regular Doc Appointment)
You'll next be introduced to a clinical assistant who will take your vitals, height, and weight, as well as to inquire about your latest period date.
5. Schedule an appointment with your reproductive endocrinologist: It's a good idea to bring a partner.
You'll visit with your reproductive endocrinologist or "fertility expert" at this time, who will ask you about your medical history. While attendance at the initial appointment is not needed, it is strongly suggested. They will also gather information about your partner's medical history at this appointment. Your age, lifestyle, and how long you and your spouse have been trying to conceive will all be discussed with the doctor.
6. Tell us about your OB/GYN and your pregnancy history.
Your fertility specialist will ask about prior pregnancies and check your gynecological history. They'll inquire about successful pregnancies, losses, or sterilization (tubal ligation or vasectomy).
7. Medical Conditions Pre-Existing: Any and All Information Is Beneficial
Your doctor will also go through your medical history to discover if you have any prior medical conditions that could make it difficult for you to conceive or keep a healthy pregnancy.
8. Discussing Your Allergies and Way of Life
Your doctor will then go over any surgeries you've had and inquire whether you're on any medications, have any allergies, smoke, drink, or use drugs on a daily basis.
9. Look into your family's medical and genetic history to see if there are any medical or genetic disorders in the family.
Your doctor will also go over your family history and see if anyone in your family is a carrier of specific genetic illnesses.
10. Prepare for a Pelvic Exam.
The doctor will then perform a pelvic exam as well as a vaginal ultrasound to examine the shape of your uterus and ovaries. This may cause some little discomfort, although many people are unaffected. More information on fertility testing can be found here.
11. Find out what your exam results are.
Your fertility specialist will next inform you of the results of the pelvic exam and address any questions you may have.
12. Fertility Testing After Your Fertility Consultation(Appointment)
Finally, your doctor will inform you of any testing that may be required during a follow-up visit:
It's possible that you'll need more blood tests to determine your ovarian reserve.
Tests for sexually transmitted diseases and thyroid function may also be required.
A hysterosalpingogram (HSG), which evaluates your fallopian tubes, may be ordered by your doctor. Your doctor can use an HSG to see if your fallopian tubes and uterine cavity are normal.
The doctor may request a semen analysis for your husband or male partner to check sperm count, motility, and shape to see if the sperm are normal.
13. Make a list of any last-minute questions you may have.
You now have a better idea of what to expect at your first fertility consultation. You'll leave the doctor's office and be greeted by a nurse who has been assigned to you and will follow you throughout your treatment.