Blastocyst Culture and Transfer
Blastocyst culture transfer and freezing embryos is advised for patients with multiple failed IVF within 2 or 3 three day of embryo transfer. Blastocyst culture transfer generates more information related to the growth of the embryos and aid in improving pregnancy rate. It is also used to eliminate multiple pregnancies; it may or may not allow the transfer of single best embryo and thereby reducing the chance of multiple pregnancies. Blastocyst has two different cell types- the inner cell mass which develops into the fetus, and an outer layer of cells called trophectoderm which develops into the placenta.
Blastocyst culture is the practice of developing embryos within a laboratory setting until they reach the Blastocyst stage that is the 5 the day of development. Embryos can be observed for a longer period of time by extending the in vitro culture period until the Blastocyst stage. Blastocyst culture transfer and freezing embryos are helpful measures to enhance the chances of pregnancy. When you wish to boost your chances of pregnancy then Usha IVF offers the best test tube baby (IVF) treatments in Gujarat.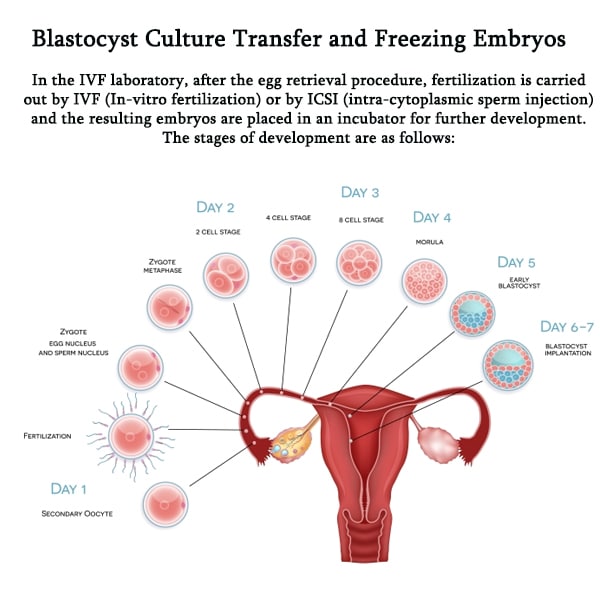 Blastocyst culture is the process of developing embryos outside the human body. Earlier, due to the inefficiency of specialized culture media, it was not possible to develop embryos inside the laboratory, but now it is possible due to modern advanced technologies that have evolved. The successfully nurturing of the embryos in the blastocyst stage outside the human body is known as blastocyst culture. Blastocyst culture is the better chance to develop successful pregnancies and birth. Blastocyst culture involves the growing of the embryos in the laboratory for two more days; at this stage they are referred to as blastocyst embryos. The blastocyst transfer means that blastocyst embryos are transferred in the uterus on the fifth day the same way as the third-day embryos. The decision of the third-day embryo or the fifth-day embryo transfer depends on the circumstances of the time. All the processes involved in the blastocyst culture are thoroughly discussed with the patients. We assure quality treatments for valuable patients. Here we consider all your risks with great care.
Frequent Searches of Blastocyst Culture Transfer and Freezing Embryos